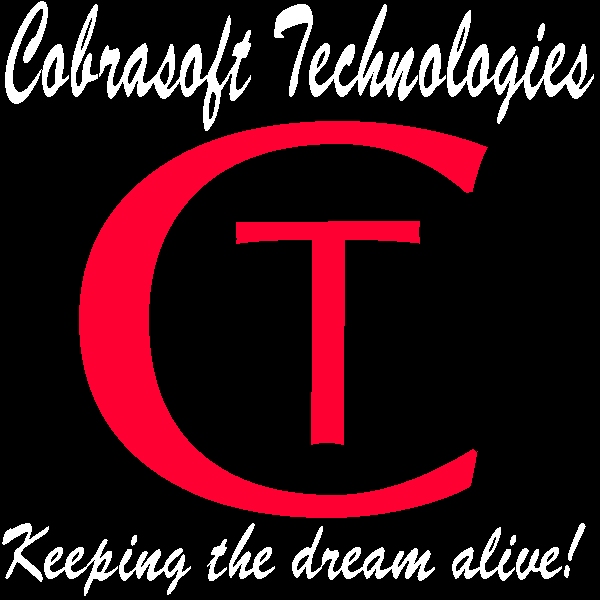 Cobrasoft Technologies HomePage
Welcome to the CobraSoft Technologies Homepage! Here at CT we have one goal. That goal is to bring the Jaguar community the latest industry news, product releases, game reviews (Coming Soon), software development information, Jaguar message board, FREE CS E-mail accounts to ALL , and finally our own small product line.
Currently our company only has one employee and that is me, Robert Dutcher. I created this company out of the love for video game systems, mainly the Atari Jaguar. I have been into video games since the first pong games were brought to the market in the 1970's and into computers since the IBM PC/XT computers were popular. (Man, that really makes me feel old :). Oh well.) I do all the coding for the website and product creation in my spare time, so look for the website to take on a new look in the up and coming months.
Hopefully visitors like you have had as much fun with the Jaguar as I have. Its like an old friend. If you like this page, tell a friend. Our goal is to be your #1 Jaguar resource on the Web.
Thankyou,
Robert Dutcher
PS If you are the webmaster of a Jaguar website, send me an e-mail. I'll put you in our link section as soon as its up.
CobraSoft Technologies Departments
Products | Jaguar History | Jaguar Developement | CobraSoft Technologies Message Board | Atari Jagaur FAQ
News | Free CT E-Mail Account | Search the Web|Eclusive Interview W/ Graphics Man |E-Mail Us
Copyright 2000 Robert Dutcher All Rights Reserved